It was a Saturday morning in January of 2002.
Karen was just leaving the house when she found him curled up next to the propane tank. He was in horrific condition. Karen could tell that he was starving and could see one gunshot wound. He was bleeding and obviously in pain. But his eyes looked into hers with a pleading faith that she would help him.
When Karen reached the Animal Hospital in Beaufort (South Carolina), he was a living, breathing skeleton of a dog. Dr Murray rushed them in immediately. What the doctor found in the examination was that - not only had he been starved nearly to his death, he had been suffered a shotgun blast that had shattered both bones in his leg, his pelvis had been crushed, and his internal organs were twisted in knots. The prognosis wasn't good. It would take just short of a miracle to save him.
The fact that he had dragged himself to Karen's home was a miracle in itself - as if he were led to where everything possible would be done to save him. Now he faced an expensive but necessary surgery, and now Karen was in need of a miracle herself: Angels. These Angels came in the form of Sharon Wagner and Sally Fedman, who pledged the fundings needed for the surgery.
He had spent Saturday to Monday in the Animal Hospital being observed by Dr Murray and the staff. Surgery was the next step, and surgery would be difficult to say the least. Dr Henry agreed to perform the surgeries, remarking what a good dog this "little 'St Jude' was".
Now the fact that this dog was named 'St Jude' and Saint Jude is the patron Saint of Helpless Causes isn't just a coincidence.
Dr Henry had to untie the sciatic nerve that runs from the spine through the leg, untangle the organs, and lessen a two inch difference in each hip. The Gunshot wound had to be fixed too - the bones needed repaired. This dog - this Little St Jude - would have to really want to live for this to work.

'St Jude' survived the surgery and fought the incredible fight to live. "His determination and strength has inspired me when times get tough", says Karen. "He is my benchmark. He is my hero!"
We can tell you that St Jude feels the same way about Karen!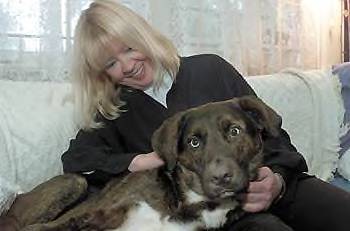 She is HIS hero in life - the person who SAVED his life! We have no doubt that he was 'led' to her for a reason and a purpose...as we all were.
~
Jude passed away on January 4th, 2009 at home. He enjoyed his 'last meal', an abundance of tender, loving pettings and conversation with Karen. He slipped away - out of pain forever now.
And he awaits those left behind - someday to greet Karen and Ambrr and Allicks and Gabriel at The Bridge. St Jude WAS surely blessed - but he blessed those around him as well.
Jude is buried now where, for the past several years he has lived.
His journey is now over.
He has gone full circle: he has been rescued...and he has rescued.
___________________
A Dog Named 'PHOENIX'
(by Allicks Anderson - mom's MOST BEAUTIFUL dog!)
I never met the dog, but believe me - I've 'heard' all about him.
He has a truly interesting story - and one which has all the intrigue of the greatest mystery novel ever written!
Or so I'm told by Ambrr - our NanaDog!
Sometime back, our Mom heard of a dog left to fend for himself without so much as a bit of shelter from the rains of the Lowlands of Beaufort County. Just a few miles up Highway 170 from Mom's workplace at Sun City, on an empty lot with only trash and splintered branches left lying around, there was a dog that seemed to have been forgotten by his owners when they moved - taking their mobile home with them.
All that was left now were the steps to the front door.
At first, everyone thought that the home had burned down. But soon enough, they learned the even sadder truth - the people had moved - leaving the dog behind without food - without water - without the slightest care.
Mom and a friend at work, Caroline, started visiting the lot offering this seemingly wild dog food and water. Soon, several others began the ritual of leaving water and food containers behind in the hope that this 'wild one' would at least be able to survive the conditions left him.
Who knows just how many people spotted the dark brown, short-haired dog hanging around this lot - there's a busy highway running along the front of the property. Certainly others had tried to coax him out of his wooded refuge and into the open where he might be further coaxed into a vehicle: his only hope of true survival. Who knows how many times they failed. Just how many times he had eluded those who had attempted to save him - is something I guess we'll never know.
Now, if you know our Mom, you'll understand the passion that she 'wears on her sleeve' when it comes to animals! If she weren't as passionate as she is, we probably wouldn't be here. It was through her passion - through her determination - and through her dedication to 'saving lives' that I have survived - and Jude has survived - and Ambrr has survived - and Gabriel has survived. She is responsible for us - and for our lives.
She's also responsible for THAT DARN CAT's life - but we'll grant her ONE obvious mistake!
When the vet tech told her that I should be 'put to sleep' because of my blindness, Mom became even more determined to see me grow up to be the WONDERFUL BEAUTY that I am today!
When others thought that it might be hopeless for Jude - she became even more determined that he would indeed survive - and live a happy and healthy life right here at Crittersville.
When Ambrr was living at 'the pound', and some might have believed that she wasn't 'worth' the effort to save - our Mom became all the more determined to give her a home - and the love and attention she so needed in order to become our NanaDog.
And when Gabriel's life was set to end at the hand of an irresponsible breeder, our Mom became all the more determined that Gabriel WOULD live - even if it meant getting him all the way from Wyoming to the coastal county of Beaufort, South Carolina.
Yep, when she sets her mind to something - it's set in concrete!
So, when the story of this 'wild one' surfaced - Mom was determined to play an important role in his life - to gain his trust - to save his life. When the lot was markedd as a future construction site - she knew it was an emergency situation - and vitally important to succeed before the dangers overcame hope.
It was time to 'pull out all the stops', as they say, and GET 'ER DONE!
The 'wild one' had been nicknamed 'Phoenix' when everyone believed fire had been the reason for the empty lot. That name - 'Phoenix' - symbolizing his apparent 'rise from the ashes' - didn't lose its symbolic importance when they found that the fire hadn't occurred. He had, after all, survived this long on his own - whatever dangers lurked or threatened his existence - he had over come them all and survived. He had surely 'risen' from 'the ashes of hopelessness'.
He was surely a 'Phoenix'.
Mom decided to take Ambrr along on one of her many trips to 'the woods' where Phoenix lived. She believed, as we all did, that Ambrr could some how 'relate' to Phoenix in a way no human could - she has a way with other animals - as if she can speak a language every animal knows. Ambrr happily agreed to accompany Mom, and did speak to Phoenix. And, just as Mom had predicted, Phoenix responded by coming out of his woods and into the clearing.
He stuck around for some time, eating the food that Mom had brought him, and drinking the water that she had refilled. He lay nearby - certainly out of reach - but near enough to show that he wasn't so afraid anymore - that he was beginning to trust. It would take some time before he fully trusted someone though. He had been too long armed with a defensive nature. Until now - that defensiveness had, no doubt, provided his survival.
Sometimes Mom would take "HANDS" along for her visitis. "HANDS" has a cane and can't walk around the woods so well, so she'd just stay in the van - and watch. Later she would share it all with us, and eventually help me with the typing part of this story so that all of YOU can read and learn about this stranger-of-a-dog.
(That's why we call her "HANDS" - she can type!)
It started out with simple 'deliveries' of hot dogs and water.
It became a more relaxed over time - with Mom spreading a blanket out on the ground while sharing her own lunch with Phoenix - who was beginning to move closer and closer to her.
Finally, one day - he ate from her hand!
She was sooooo excited at this; we thought we'd never 'hear' the end of it! Between Ambrr's gloating over 'talking him out' and Mom's excitement over feeding him out of her hand - Gabriel, Jude and I thought for sure we'd have to widen the door - just to get their heads through!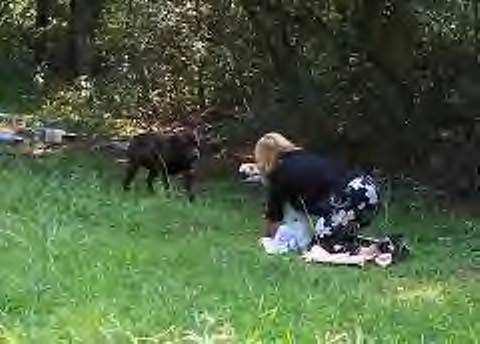 Time passed, and the danger of imminent construction was upping the ante - and it was getting a bit nerve-wracking for Mom.
Phoenix, on the other hand, had no clue. Whenever Mom's van would enter the lot, he'd come running out of the woods - jumping and twisting with joy and anticipation at her visit. He would play 'fetch' with whatever one of OUR toys Mom would take on a given day. He'd now let her touch him - slightly - and quickly - but without jumping and retreating with fear.
This trust-building thing that Mom had worked so hard for was paying off - BIG TIME!
Still, she couldn't get him to step into the van - much less voluntarily jump in for a ride to a new home! Mom needed some help if ever she was going to 'beat the clock' on the construction schedule, and she knew just where to get that help. She contacted a couple of sheriff deputies - a married couple - Officer Bev and her husband, Officer...."Mr Bev".
(Sorry, Ambrr couldn't remember his name.)
Officer Bev was extremely knowledgeable about animals and worked with the Animal Shelter of Beaufort. She and her husband met Mom and "Hands" and a friend named Caroline at the lot. It took time - LOTS of time - but eventually Phoenix was coaxed into the van - and into a new lifestyle that would take some more adjustment...and time.
But he was safe! And that's all that really mattered. Mom was ELATED!
(That means really, REALLY happy, Gabriel.)
His new and temporary 'home' wasn't too far from the lot and the woods he was leaving behind. And it wasn't much farther than the lot from Sun City, so Mom could still make daily visits with her newest 'passion'.
And she did.
Most every morning, she'd leave early for work just so she would have time to visit Phoenix before heading into a 9-hour day. Most every day, she'd spend her lunch hour with Phoenix - and the trust was increasing daily. Most every night after work, she'd visit Phoenix before heading down that hour long road that brought her home to us.
Once home, she'd be on the internet - checking out points of interest in regard to Phoenix - looking for more ways to help him - to gain his trust. Each tiny improvement was a special event worthy of celebrating. There was that 'first touch'. That 'first collar'. That 'first halter and leash'. That 'first walk' outside the kennel. That 'first hug'.
There was something happening here that neither Phoenix nor Mom had counted on - something powerful and something that would later lead to some broken hearts. They were growing closer and closer by the visit. He looked forward to the visits ALMOST as much as she looked forward to them. It's as if neither of them thought 'down the road' to where they would part.
But it was going to happen any way.
One day, Mom called and was really sad. Though in her heart, Mom knew it was a beautiful thing - it was still a terrible thing - all at the same time. Phoenix had 'moved' to another 'home'. A more permanent home.
"HANDS" says that there's an Irish writer of long ago who wrote about 'the Terrible Beauty', and now we all understood a little better what he was writing about.
Their time together - their one-on-one time together - was over.
He had grown - he had learned.
He had begun to trust.
He knew the touch of a loving hand and the lilt of a loving voice.
He would survive after all.
He would become someone's pet - a part of someone's family.
He would never again be abandoned.
He had learned as Mom had learned. They had both learned to 'believe' again. Life hadn't been so gentle to either. They needed to 'believe' - that's for sure. And they needed to KNOW that believing was 'ok'. They had to trust believing!
They needed to love and be loved - and their God had provided all of that in one beautifully wondrous package: a meeting between a dog named Phoenix and our mom!
~
__________
I have a terrible ending to report...on February 4th, 2007, Phoenix passed away and joined so many others at Rainbow Bridge.
It seems to have come quickly. He was feeling fine that day - playing with the other pups and with his human family. But that evening, when they didn't see him running around, his new humans found him curled up - as if asleep in his hay. They checked him and he wasn't breathing.
It made our whole house sad to know that he was gone, but it especially hit our Mama Karen hard.
I guess it's a good thing that Mom saved Phoenix when she did. He got to know love and he got to learn to love - more than he would have gotten had he been left in that wooded 'refuge' he called 'home'.
Phoenix was a lucky pup - lucky enough to meet our Mom and lucky enough to die loved.
We won't forget him - his story is told and re-told around here.
And we'll meet him one of these days down the road.
Until then - Phoenix - keep smiling!
______________
A Pup Called Possum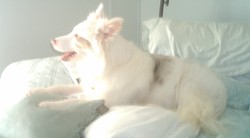 She entered my life on April 15th, 2007.
That's the day Karen and I met up with Dede - a great friend and fellow transport volunteer who helped get Possum to South Carolina from Texas. There were several drivers along the route - each and every one of them fell in love with this petite Aussie. This huge transport was put together by a Transport Guru - "Kim K" - and her hard work led to yet another life saved.
When I walked up to Dede's truck - before I even saw Possum - Dede told me something that I had no idea would ring so true.
She said to me, "Chris - this pup's YOURS".
I looked into the truck and saw this tiny fox-faced dog - mostly white but with some patches of red merle - and sure enough - I fell in love! She lay curled on Dede's seat, head straight ahead as if concentrating on something or reflecting on the miles she had traveled. As soon as she caught scent of my hand though, she 'turned inside out' with joy.
It wasn't ME - this is how she had been all along the transport route - and this is why everyone had fallen so for her.
She didn't take to the leash well at all, wanting to continuously spin in tight circles, and it took a considerable amount of strength for Karen to hold onto her. It wasn't safe for her to get lose - this wasn't your typical dog - or even your typical Aussie by any stretch. Possum is a 'white' - a 'lethal white' - blind, deaf and rescued from death when only a puppy.
Karen held her tightly until we loaded up into the van. I sat in the back seat with Possum next to me for the duration of the ride home, petting her as she lie there quietly and seemingly at peace. Her fur was incredibly soft! Her features were tiny and seemingly frail.
What wasn't there to fall in love with? She seemed perfect!
Once home, Karen carried Possum up the steps to the house, and she was 'introduced' to Gabriel and Ambrr through closed doors. They were as interested in her as she seemed agitated with them. I kept her in my room, which would be her 'kennel' for the rest of her life. I would become her 'kennel mate' of sorts and we would develop a relationship unique to my life.
As we got to know Possum a little better, we understood that she displayed a great deal of fear, distrust, and uncertainty. The spinning she did, we would later learn, was associated with CCD (Canine Compulsive Disorder), and stress (or anger) would trigger an acceleration of the spinning.
What we didn't realize then was that this behavior had been part of Possum's life for such a long, long time that it was engrained now and would prove to be nearly impossible to alter.
And there were other things.
I couldn't just put food in a bowl and let her eat. She'd spin around so violently that the food would go flying across the room! We were to learn that, while in Texas, she'd end up missing out on meals because the other dogs were quick to 'clean up' what she sent flying about.
For a few weeks, I would feed her out of my hand while hanging onto her collar. It would take FOREVER for her to eat, but at least she was EATING! After some weeks, I was able to feed her by holding firmly to her bowl while she ate from it - a process that took even longer! Several times, she would have to pause, stiffin up, and try to spin - most probably assuring no one else was in her space and trying to eat her food.
Such was life with this little precious girl from Texas!
Eventually, things got better - to some degree.
The spinning slowed for the most part, and became much less apparent MOST of the time. Even with medication, it never completely stopped. She eventually was able to ALMOST relax while eating - except for those few times she'd continue to stiffin up, tense up and show agitation and/or fear.
Eventually she growled less and ate more and even learned to PLAY!
She and Gabriel would chase each other and play throughout the living room - hopping like some maniac bunnies (a sight to behold for sure), leaping toward one another - and most of the time totally missing each other completely!
Two blind pups at play is just too memorable for words!
Possum would learn other things too - like touch commands.
One touch on her rump - and she'd sit.
Another on her chest and she'd lie down.
Once lying down, a firm touch on her shoulders meant 'stay' though that was her least favorite trick!
She learned to walk on lead too - with the help of the Gentle Leader Harness and the wisdom shared with us by Abbey - a local dog trainer.
Possum LOVED to go for walks! At first she wasn't so astounding. She'd have to bump into me along the way - just to make sure I was there and wasn't in her way I suppose. But after a while, she'd walk along side me as if she could see everything there was to look at along the road. Possum was also deaf, so the noise of the passing vehicles didn't alarm her - but the scent of the exhaust seemed to aggravate her now and then!
If ever you've been to a dog show of any kind and there's been an agility course on site, you've probably enjoyed watching dogs of all breeds and sizes 'go through the paces' of the course. Well, if you weren't around to see Possum on the agility course - 'you ain't seen nothin yet'!
Abbey suggested I introduce her to some of the course, and I reluctantly did. I was shocked at how well she did! First time at the tunnel and she went through it slick as can be! Second time, however, she got in the very middle (at the bend) and laid down! I had to crawl partially into the thing to coax her out - which was even more the sight that day than watching a blind dog perform agility, I'm sure!
The tire left her perplexed. You could tell. She had to be wondering just who thought THIS one up! But where she excelled was at the teeter-totter! She loved it! First two times over it, I stopped her just past the middle of the board so it could settle in position, and then walked her down and onto the ground. She nearly dragged me back to the other end! She sincerely seemed to love it!
Luckily Dede took pictures of Possum on the course or NO one would believe it!
And there was the 'Best Trick' winnings!
She was dressed up once in her Annie Oakley outfit (thanks to Karen's persuasion), and won 'Best Dressed'. Showed off her touch commands and won a prize for that too! She and Gabriel both seemed to cash in on the prizes at these events, and rightfully so!
Blind deaf white Aussies just have a way of touching everyone around them!
One day when Karen and I had Possum, Gabriel and Ambrr at the beach, a young gal came up to me and asked just what kind of dog Possum was. I gave her a short-version answer, and pretty soon she was explaining to her friends that 'those two white dogs are blind and deaf'.
Possum (and Gabe) had perhaps just helped save a life by drawing attention, compassion and curiosity!
There are so many things to say about this pup, but there isn't the time right now or the space here to do her justice. I'm working on an avenue whereby her stories CAN be told - a collection of short stories depicting what I THINK she had in her tiny fox-faced head while we were together.
Sometimes things change in life, and sometimes these changes aren't so good.
Possum regressed.
That's the short version of how her life changed - thereby changing mine forever: she regressed.
Her fear intensified. Her growling intensified. Lashing out at others intensified. Over all - except for moments of joy - her saddness and uncertainty was taking over. She wasn't safe for others to be near. She was unpredictable - untrusted by even me.
She couldn't attend the events any longer. She was able to spend less and less time out of 'our room'. Her spinning increased as her demeanor seemed to be dwindling. We were losing her, and more importantly, she seemed to know it.
I made an appointment with a local vet, and on Saturday - November 15th, 2008 we were on the way to a lasting heartache.
Possum was to be put to sleep.
Early that Saturday morning, I gave her a shower, (which she NEVER liked), she ate some special treats Karen provided, she got some good brushings, numerous pettings, she played with her favorite toy without having to share, did some spinning without harassment from Karen or me, and basically had the whole house to herself!
She got excited once the leash was fastened. That's one thing about her that didn't change. She was excited to be heading downstairs. She was more than happy to get into the van. She seemed happier than she had been in a long, long time.
That sure didn't make it any easier.
Karen drove the van while I sat in the back seat with Possum, as she lay there quietly and seemingly at peace. I stroked her fur - pristine white with red merle patches - the softest fur I've ever felt before or since.
At the vet's office, Possum began to 'shine' as she had often before - delighted (as usual) in the scent of humans! Someone stopped and petted her and asked her why she was there. That's when the tears became a little too much to hold back - for me or for Karen.
We were led to a small room off the main waiting room where Possum was given a shot to relax her a bit. Once up on the table, she lay there quietly, her head cradled in my arm and Karen and I petting and stroking her as we softly cried our regrets in having to say this goodbye.
She's home now - buried in the yard where Jude would soon follow.
She's at peace.
No more fear - no more stress - no more having to share her treats with Gabriel , no more having to 'survive' the shower - and no more aggravation by 'that darn CAT'!
This is the Pup called Possum.
The love I feel for her will last a lifetime.
She was mine, all right - from that very moment I saw her in Dede's truck!
Not in the true sense of course - but certainly in the emotional sense.
We had known her for just over a year and a half. She had been in our lives for exactly 1 year and 7 months, yet she was the foster who taught us the most, cost Karen the most, CAUSED the most, changed the most, LEARNED the most, achieved the most, and gave ME the most kennel-mate memories.
I guess what makes me happiest about Possum is that she finally got to LIVE. She finally got to be that happy pup she so deserved to be - and she finally got to become everything she could have been!
Like every other animal, Possum deserved happiness. She deserved love and deserved to enjoy living. And like every lucky animal out there - she was able to do just that for a time. She smiled. She was happy.
Until her regression took those gifts from her, Possum lived her life to the fullest. She went to educational events and turned heads everywhere she went. She demonstrated how a blind/deaf dog could be happily living the chance they each deserve.
Other pups will follow Possum on this, (or a similar), trail.
More fortunate pups will accomplish things that Possum never was able to accomplish. But that's different. Another blind and deaf pup with all sorts of strikes already against her will NEVER out-accomplish this one!
Not in my book, that is.
There will never be another Possum - with all her good and with all her bad - there just will never be another one like her.
What she never could have imagined could be - became possible...and plausible for her and for me.
That's the title of the book-in-progress: Plausible Possum.
Possum, I'll see YOU at the book signings!
- Christy -
~